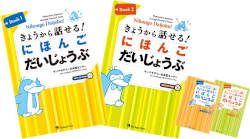 "Nihongo Daijobu!" Series is the basic-level Japanese textbook series designed for optimum language learning which Sun Academy has developed. It consists of a main book, a supplementary book and CD-ROMs (MP3). Both printed books and e-books are available!
Features
1. "Task-Based Approach", a communication build-up method, to improve accuracy and fluency at the same time.
2. Strategies to cope with and compensate for not understanding 100% out of the classroom.
3. Various simulations and dramas that develop insight into cross-cultural psychology.