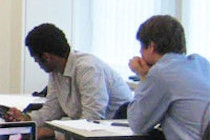 Sun Academy offers special intensive Japanese program for workers and trainees who work for/with a Japanese company.
- Our curriculum designers conduct thorough needs assessment, identify issues and design the best curriculum.
- Cultural competency to cope with Japanese unique corporate culture will be developed as well as Japanese language.
- Lessons are delivered by highly professional and well-experienced instructors.
- Program can be customized to meet budget, number of participants, purpose, period, etc. Both face-to-face and online lessons are available.